In the first week of life a calf is likely to spend extra energy to keep warm, so the use of calf jackets on one to five week old calves can make significant savings on feed, medication and bedding costs, by better conversion of energy to growth rather than using the energy to keep warm. This in turn reduces the risk of pneumonia and scours from chills, draughts and changeable temperature.
£20.00 + VAT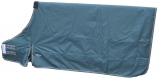 £55.00 - 65.00 + VAT
Make your choice of grooming products from all the major brands including the world leaders Sullivan's and Doc Brannen's and our own ShowTime brand made in the UK. We now have on offer more products than ever for cattle, sheep, horses & pigs in our 2017 catalogue...